The second type of records are implementation records. Implementation records demonstrate that the food safety system is operating as planned. They provide evidence that the activities were completed and are effective.
Implementation records include the operational data from activities; this information was collected during actual production, and provide the proof that you are supplying safe food to your customers. Example forms are shown here and can be downloaded from the Appendix, or you can use your own to capture the results of monitoring, corrective actions, and other activities, such as:
Preventive control monitoring data
Corrective actions taken
Verification activities
Supply-chain program implementation
Training
The implementation records can be listed in a "Records" column on the Process Preventative Control form.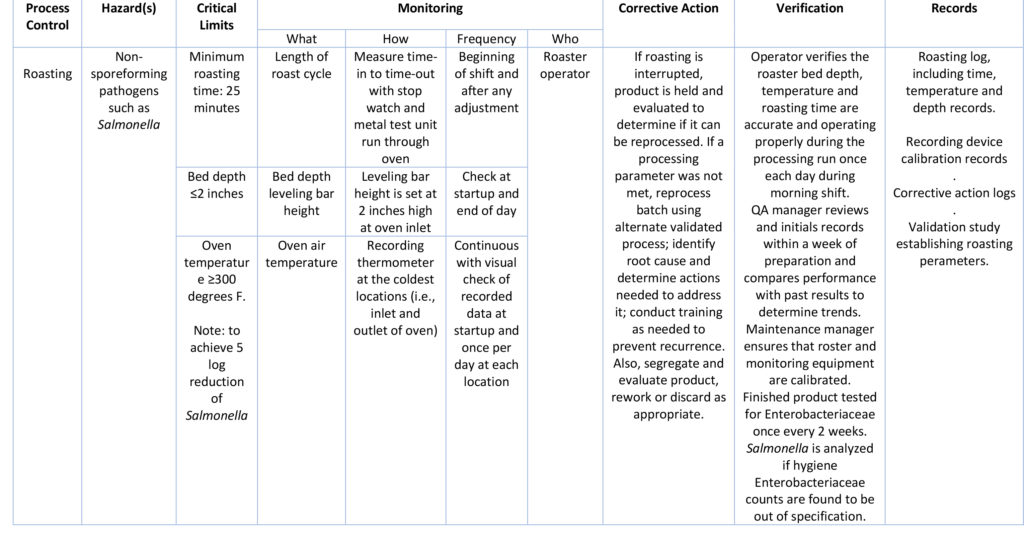 Basic information that should be on all records includes:
Name of record
Name and location of facility
Date and time where applicable
Measurement or observation
Product identification
Signature or initials of persons performing monitoring
Signature or initials of person reviewing record
Monitoring records are used to document that food safety hazards have been controlled.
Monitoring Records
Corrective Action Records
Information that should go on a corrective action record includes:
Product identification
Volume on hold
Deviation description
Actions taken to prevent recurrence
Final disposition of product
Evaluation of testing results if relevant
Corrective action verification

Verification Records
Verification records should include:
Verification of monitoring and corrective action records
Calibration and accuracy checks of process-monitoring instruments
Product testing
Environmental monitoring
Supply-chain program verification
Reanalysis
Validation Records
Examples of Validation Records might be:
Process validation records
In-plant studies
Research studies
Journal articles
Industry or regulatory guidance