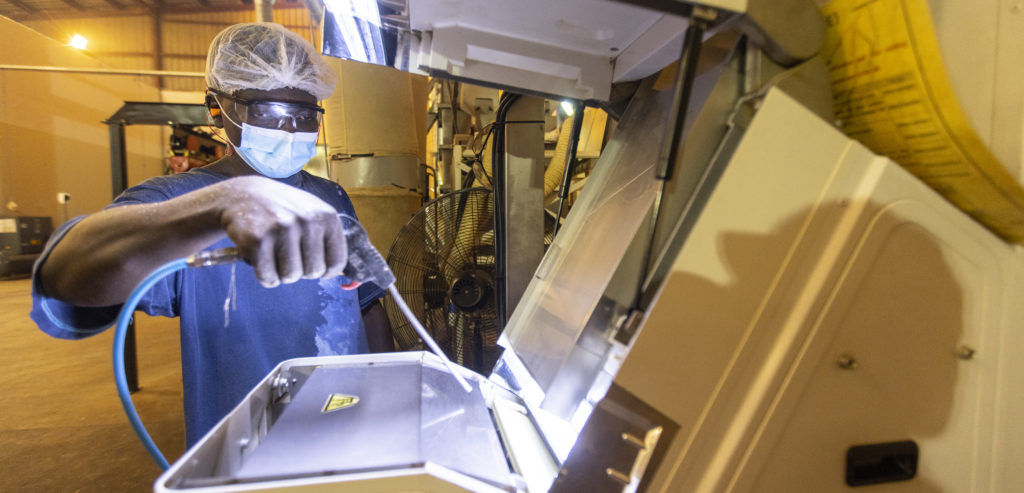 Sanitary operations include steps beyond just cleaning that prevent foods from becoming contaminated while it is stored or processed in the facility. Below is a list of sanitary operation practices. It is important to note that sanitation of equipment and utensils involves the use of chemical sanitizers that are applied after cleaning before use of the equipment.
The facility should dispose of trash and sewage properly.
There should be adequate, accessible, and sanitary toilet facilities, as well as adequate drinking water.
Hand-washing facilities should be convenient and include signs demonstrating proper hand-washing technique.
Substances used in cleaning and sanitizing should be labeled and stored properly to prevent contaminating food products.
All food contact surfaces should be cleaned to protect against contamination of food. Chemicals used on food contact surfaces must be food grade.
Workers should be properly trained in the use of sanitizing agents.
Portable equipment such as fans and ladders should be properly cleaned and sanitized.
Sanitation tools and equipment should only be used for the intended purpose, dedicated to these specific uses, and handled and/or stored separately. To prevent contamination, use separate sanitation equipment in areas that store raw foods and areas that have prepared foods; color code this equipment and store it in a clean place off the floor.
Water hoses or compressed air hoses should not be used near sanitized equipment and in areas of exposed finished product to clean the floor or equipment.
Implement barriers and other controls to maintain proper hygiene in the primary production area.
Buildings, fixtures, and other physical facilities of the plant should be maintained in a sanitary condition and kept in repair sufficient to prevent food from becoming contaminated.
Use wet-cleaning or dry-cleaning (which involves NO water) procedures as appropriate.
Peanut-specific GMPs
Use dry cleaning, such as dry scraping, and vacuuming methods as the routine cleaning practices in primary peanut production areas. Use dry cleaning and controlled wet cleaning for buffer areas leading to primary production areas. Keep areas as dry as possible to prevent growth of microorganisms.
When wet cleaning is necessary to get rid of buildup that dry cleaning can't remove, the area should be thoroughly cleaned and sanitized. Whenever water is introduced into the facility, surfaces and equipment must be thoroughly cleaned, sanitized and dried.
A study found that cleaning of equipment with hot oil to remove peanut butter residue followed by 60% isopropanol-based sanitizer or an isopropanol sanitizer containing quaternary ammonium compounds were highly effective in reducing Salmonella in the system.